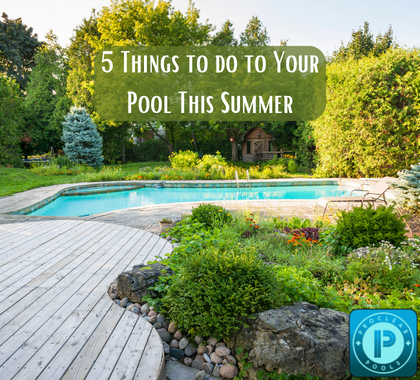 As the summer season approaches, it's time to make the most of your pool and create an enjoyable oasis for relaxation and fun. Whether you're a pool owner or have access to a shared pool, there are several things you can do to enhance your pool experience.
5 Things to do to Your Pool This Summer
Regular Maintenance:
Maintaining your pool's cleanliness and functionality is crucial for an enjoyable swimming experience. Follow these maintenance tasks:
Skim and clean the pool surface regularly to remove debris and leaves.
Vacuum or use an automatic pool cleaner to keep the pool bottom free from dirt and particles.
Monitor and adjust the water chemistry, including pH, chlorine levels, and alkalinity, to ensure safe and balanced water.
Clean the pool filters as recommended to promote efficient filtration and circulation.
Upgrade Pool Accessories:
Enhance your pool experience this summer by investing in new and exciting pool accessories. Consider the following options:
Pool Floats and Loungers: Get comfortable and relax on colorful floats, loungers, or inflatable chairs.
Water Games and Toys: Add some fun to your pool with inflatable water slides, water basketball hoops, or diving toys.
Pool Lighting: Install underwater LED lights or floating solar-powered lights to create a vibrant and visually appealing ambiance in the evenings.
Pool Covers: Invest in a pool cover to conserve water, reduce evaporation, and keep the pool clean when not in use.
Create a Poolside Oasis:
Transform your pool area into a welcoming and comfortable space where you can relax and entertain guests. Consider these ideas:
Outdoor Furniture: Invest in quality poolside furniture, such as lounge chairs, umbrellas, and tables, to create a comfortable seating and sunbathing area.
Shade Structures: Install retractable awnings, pergolas, or shade sails to provide relief from direct sunlight and create a shaded retreat.
Outdoor Lighting and Décor: Add string lights, lanterns, and decorative accents to create a cozy and inviting atmosphere around the pool area.
Plan Poolside Activities:
Make the most of your pool by organizing engaging activities for yourself, family, and friends:
Pool Parties: Host poolside gatherings with games, music, and a barbecue to create a festive atmosphere all summer long.
Water Exercises: Incorporate water-based exercises, such as aqua aerobics or swimming laps, to stay fit and cool during the summer months.
Poolside Movie Nights: Set up a projector and screen near the pool for outdoor movie nights with family and friends.
Poolside Yoga or Meditation: Practice relaxation techniques by incorporating poolside yoga or meditation sessions.
Safety Measures:
Ensure a safe and secure pool environment for everyone using these safety precautions:
Install a Pool Fence: If you have young children or pets, consider installing a pool fence or safety gate to prevent unauthorized access.
Provide Adequate Supervision: Always have a designated adult present to supervise children and inexperienced swimmers.
Learn CPR: Gain knowledge of cardiopulmonary resuscitation (CPR) techniques to be prepared for emergencies.
Display Safety Rules: Post clear and visible signs indicating pool rules, such as no diving or running, to prevent accidents.
By implementing these five ideas, you can elevate your pool experience and make the most of your summer. Maintain regular pool maintenance, upgrade accessories, create a comfortable poolside oasis, plan enjoyable activities, and prioritize safety measures. With these enhancements, your pool will become a refreshing haven for relaxation, fun, and memorable moments with family and friends.
More From Our Blog: