Is Your Pool Pro Clear Clean?
Pro Clear pools Provides exceptional pool service & pool equipment repair services throughout the mohave valley including lake havasu city, parker, kingman, bullhead city & topock, arizona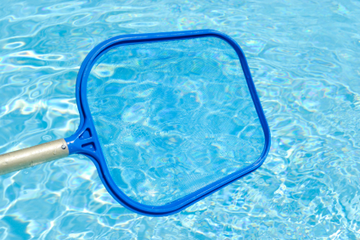 Pool Cleaning Service
PROCLEAR POOLS weekly pool service is the key to keeping your pool looking great. Don't trust your pool to someone who does little more than adding tablets every week and adjusts your pH level. Your swimming pool needs much more than that. PROCLEAR POOLS has 20 YEARS of professional experience required to keep your pool's water crystal clear, while also preserving your pool's surface and maintaining your pool equipment to ensure optimum function and longevity. We provide weekly pool service to the Mohave Valley, Arizona including Lake Havasu City, Parker, Kingman, Bullhead City and Topock in Mohave County, AZ.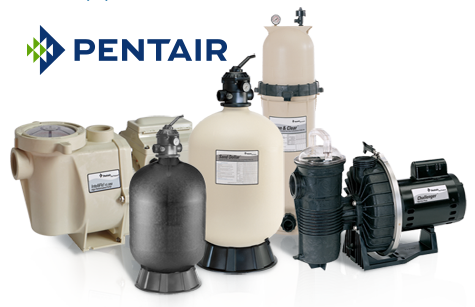 Pool Repair
PROCLEAR POOLS uses the leaders in swimming pool equipment, Pentair, Hayward & Jandy. Our experience in pool equipment installation, maintenance & repair sets us apart from other pool service companies in Lake Havasu and the Mohave Valley. We provide the latest technology and expertise available for pool automation controls, pool filters, pool pumps, pool cleaners, pool heaters and AC units, pool electrical and pool lighting, as well as pool plumbing systems, pipes valves, installation and repair. Let Pro Clear Pools experience and well trained pool service technicians help you with your pool equipment installation and repairs.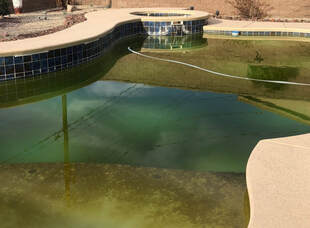 Pool Clean Up
When conditions are right, an algae bloom can occur in a matter of hours. These conditions include out of balance water due to usage, debris, neglect, warm temperatures, sunlight and presence of nitrates, phosphates and/or carbon dioxide. A lack of good circulation, filtration and sanitation is usually a contributing or the primary cause of pool algae. Trying to eliminate the algae by scrubbing and adding the wrong type of chemicals can cost you time and money. Algae not only lives on the walls of your pool. Call PROCLEAR POOLS to professionallyeliminate the algae and restore your pool's water to crystal clear blue.

Inground
Diam volutpat commodo sed egestas egestas fringilla phasellus. Parturient montes nascetur mus.

Above Ground
Rhoncus urna neque viverra justo nec ultrices dui sapien. Amet purus gravida quis blandit cursus in.
Pool Kits
Tincidunt arcu non sodales neque sodales ut etiam sit. Id semper risus in hendrerit eu facilisis.
SERVING LAKE HAVASU CITY & THE MOHAVE ARIZONA VALLEY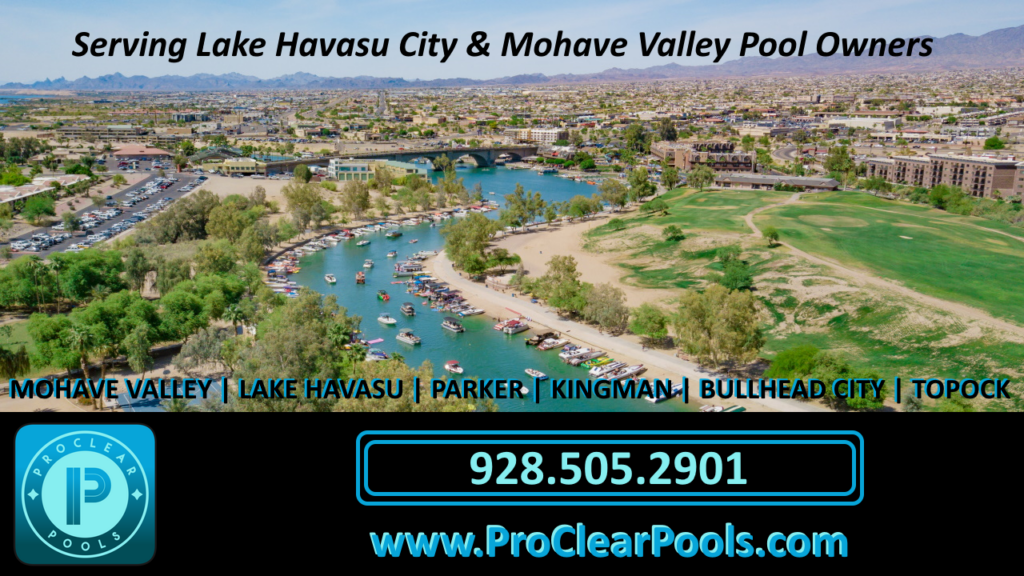 At Pro Clear Pools we take care of all of your pool service needs in Mohave County and the Mohave Valley including Lake Havasu & Lake Havasu City, Parker, Kingman, Bullhead City and Topock, Arizona.  Call Us to schedule pool service, receive a quote for pool services or pool equipment repair at: 928-505-2901, or use our Online Pool Service Contact Form and we will get back to you ASAP!
We have used Pro Clear Pool Service for about a decade now. They service our pool at our residence and our rental with a full time tenant as well. They have proved to be reliable and professional. They service our pool weekly and take chemical readings so we know when it is time to drain the water. They also do the pool drain, any equipment repairs including filter cleaning. We have been very happy with their team. I am forever grateful to Don who "goes beyond the waterline" and also picked up our wagon wheels at the swap meet on his day off.
We are extremely happy with Pro Clear Pools - Pool Service! They service our pool weekly and keep it clean and running properly. This is our vacation home, so it is important as out-of-town customers that our pool service provider be honest and reliable. Anytime repairs are required, they always get right on it. Aside from offering great service where the pool is concerned, they have gone above and beyond and kept an overall eye on our property and anything that seems out of the ordinary. For example, they once noticed our side door to our garage was left unlocked and wide open. They took the initiative to make a call, locate the key at our direction and lock that side door for us. It is a pleasure working with them and I would highly recommend them!
I have used Pro Clear Pools since 2016 at my vacation home. They do a great job keeping it up,cleaning filters etc without me having to ask. They alert me on needed Maintenence, I approve but I basically rely on them to maintain my pool while I'm not around and I always come to a clean pool! Love their service.
Pro Clear Pools has been our provider for years. We moved to a new home and Pro Clear did a pre purchase inspection and then followed us with service in the new home. The pool was in rough shape, but our tech was attentive and thorough and got it in great shape in no time! Would definitely recommend them.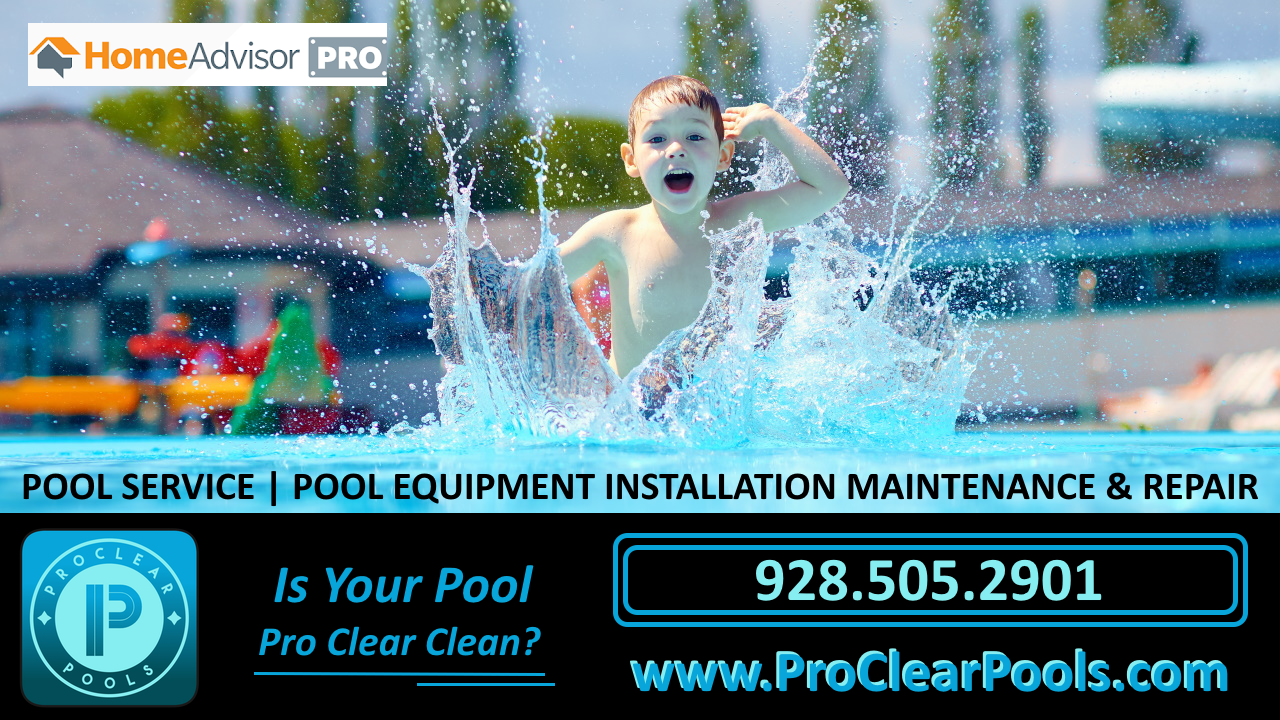 Pro Clear Pools offers weekly or bi-weekly pool service throughout the Mohave Valley and Mohave County including Lake Havasu City, Parker, Kingman, Bullhead City, and Topock, Arizona. Keep your pool looking crystal clean and clear year-round with us!
Pool Electrical & Lighting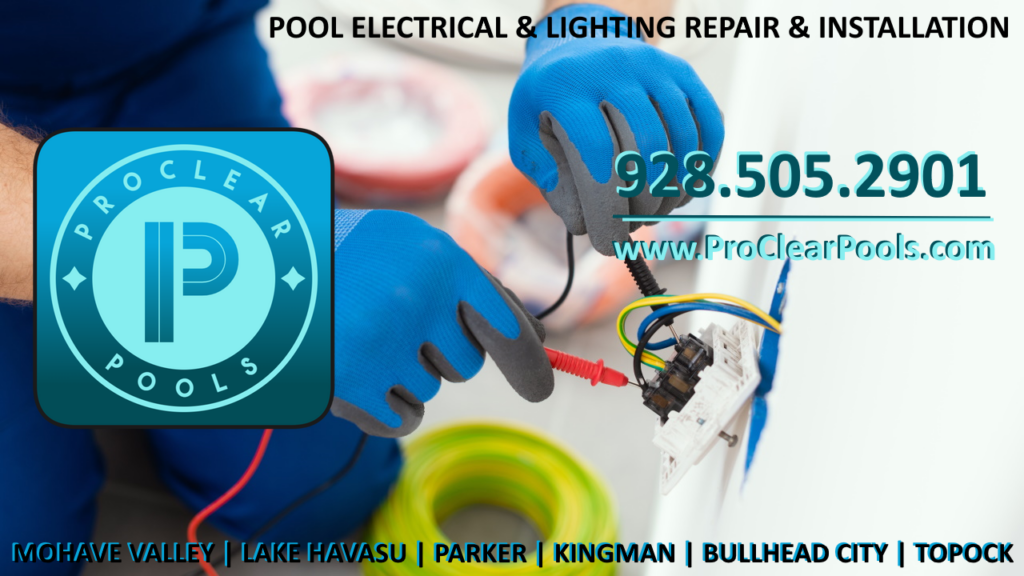 When your pool or spa equipment or pool lighting has an electrical issue, it can be a big problem. Our expert pool technicians and electricians are available to troubleshoot and fix any electrical or lighting problem you may be experiencing with your pool, spa or pool equipment including pool pumps, pool filters, pool heaters and AC units, pool wiring and pool automation systems.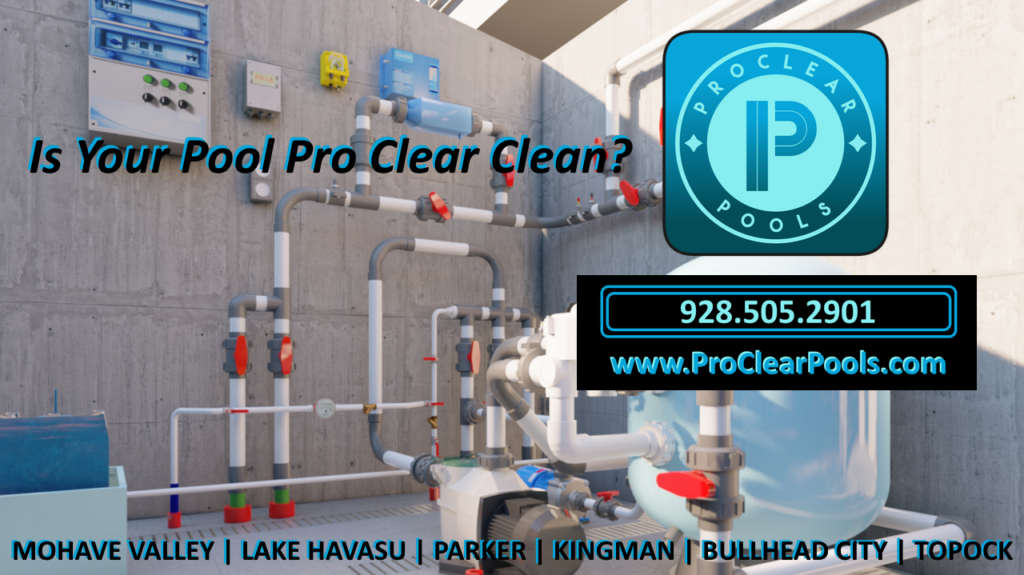 Pro Clear Pools offers pool equipment sales, installations, repairs and pool equipment maintenance. Pool filters, pool pumps, pool cleaners, pool and spa heaters, pool AC units and pool automation control systems.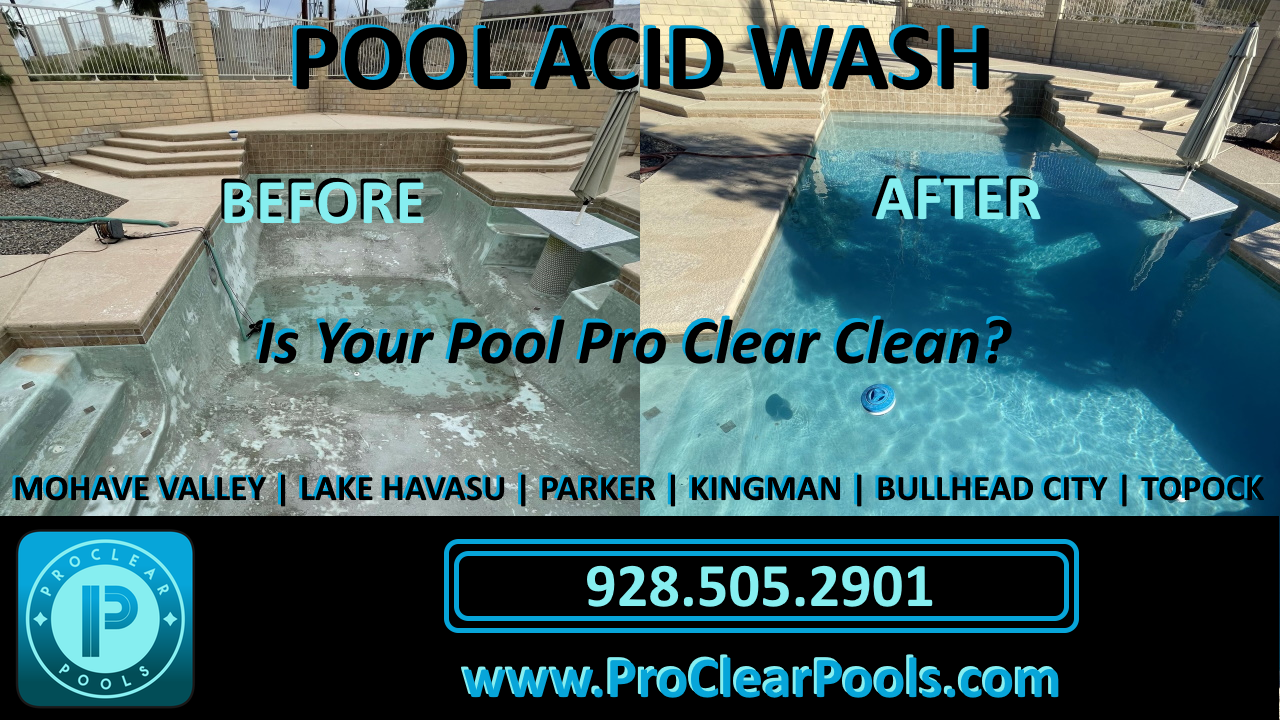 As your pool and spa age, the surface can build up deposits of minerals, algae and dirt from debris. Let's face it, we live in the Arizona desert and that comes with exterme weather, heat, wind storms and monsoons and that makes it challenging to keep your pool and pool water clean and healthy. If your pool surface is dated, dirty and in need of an overhaul, we can help with our pool surface acid wash service.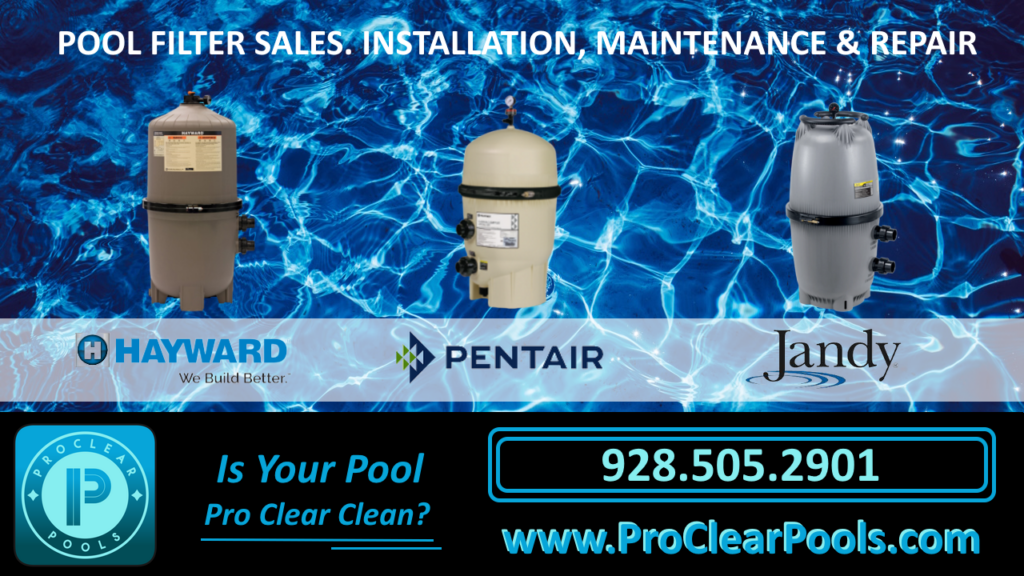 Pro Clear Pools in Lake Havasu, Kingman, Bullhead City, Parker and Topock, Arizona offers top of the line pool filter systems from Pentair, Jandy and Hayward. We sell, install, repair and maintain all types of pool filters for our pool service clients in Mohave County.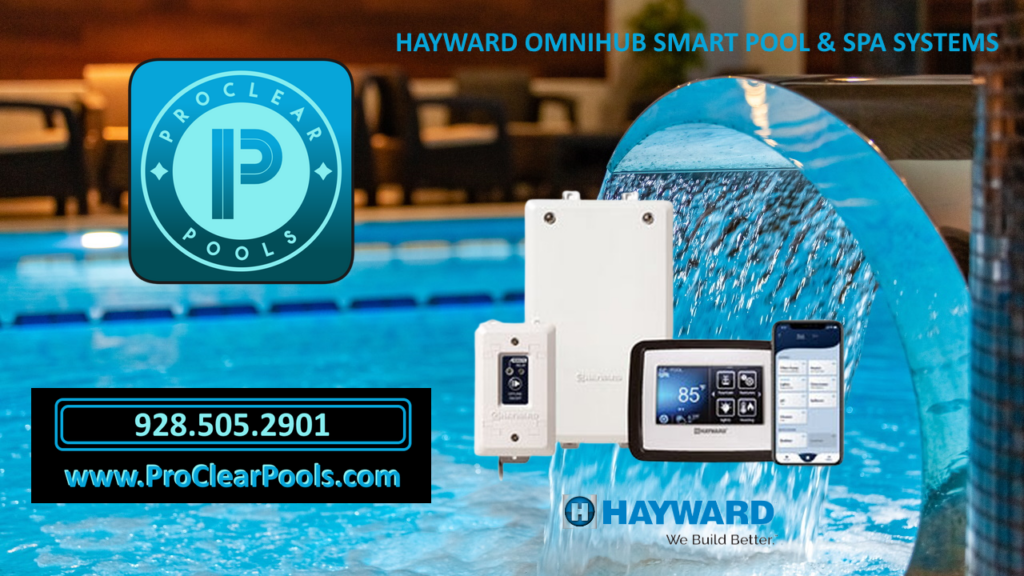 Pool Automation Systems have really improved in recent years. Top manufacturers like Pentair, Hayward and Jandy offer technologically advanced pool and spa automation systems to control your pool and spa operations, functionality, lighting, heating and pool AC, pool pumps and more, all from the convenience of an interface or app on your phone or pad. Call us for a quote on pool automation systems.
Is Your Lake Havasu Pool Pro Clear Clean?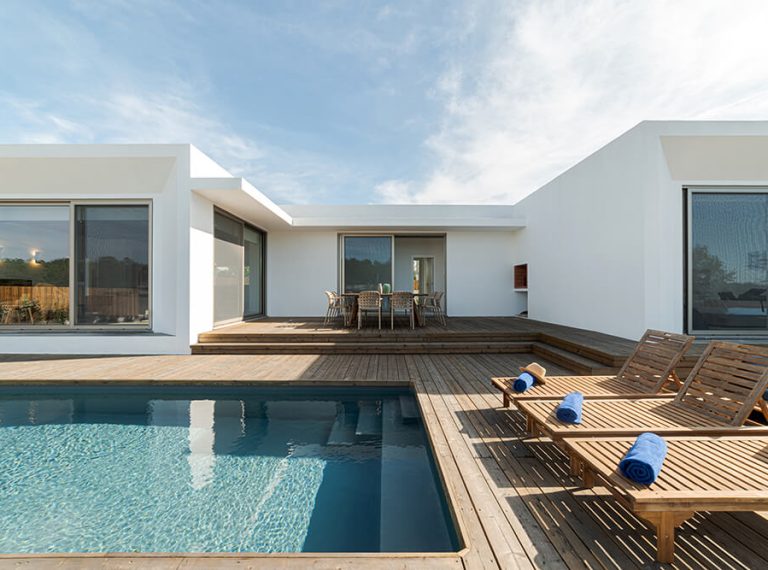 How Much Does It Cost to Build an Above Ground Pool?
Sit amet consectetur adipiscing elit duis tristique. Morbi tristique senectus et netus et malesuada fames. Ac feugiat sed lectus vestibulum mattis ullamcorper. Turpis massa tincidunt dui ut ornare lectus.
What's Better? A Round or Oval Above Ground Pool?
Ultrices mi tempus imperdiet nulla malesuada pellentesque. Purus sit amet volutpat consequat mauris nunc congue nisi vitae. Sit amet justo donec enim diam vulputate. Vel turpis nunc eget lorem dolor sed viverra ipsum.