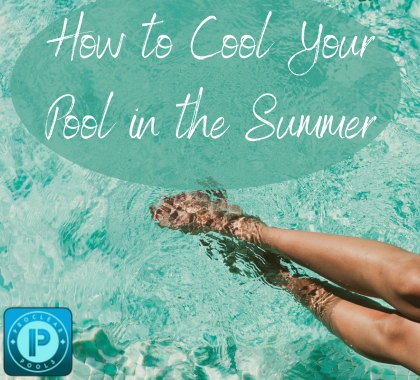 As the summer heat intensifies, finding ways to cool your pool becomes essential for a refreshing and enjoyable swimming experience. Fortunately, there are several strategies you can employ to lower the water temperature and keep your pool cool during the hot summer months.
Ways to Help Cool Your Pool
Pool Covers and Shade:
Use a Pool Cover: Investing in a pool cover, particularly a solar cover or liquid pool cover, can help reduce evaporation and limit the amount of heat absorbed by the water. These covers create a barrier that blocks the sun's rays, preventing heat gain and keeping the pool water cooler.
Install Shade Structures: Consider installing shade structures, such as umbrellas, pergolas, or shade sails, near your pool. These structures provide protection from direct sunlight, creating shaded areas where you can relax and enjoy a cooler poolside experience.
Evaporation Reduction:
Use Water Features: Incorporate water features, such as fountains, waterfalls, or misting systems, in your pool design. These features help increase evaporation, which can effectively cool the surrounding air and lower the water temperature.
Install Windbreaks: Wind can accelerate evaporation and contribute to heat loss. Erecting windbreaks, such as fences, hedges, or privacy screens, around your pool area can minimize the cooling effect caused by wind, helping to retain the pool's temperature.
Nighttime Cooling:
Take Advantage of Cooler Nights: Take advantage of naturally cooler nighttime temperatures. Open up your pool for proper ventilation, allowing the cooler air to circulate and naturally cool down the water. Ensure the pool is properly secured to prevent accidents.
Use Pool Chillers: Consider installing a pool chiller system, which functions similarly to an air conditioner for your pool. These devices actively cool the water by circulating it through a heat exchange process, effectively lowering the pool temperature.
Water Circulation and Aeration:
Run Pool Equipment at Night: To optimize the cooling process, run your pool filtration and circulation systems during the cooler nighttime hours. This allows the water to be exposed to cooler air, facilitating heat transfer and lowering the overall pool temperature.
Utilize Water Sprays or Fountains: Install water sprays or fountains that direct water into the air. As the water droplets evaporate, they cool the surrounding air and contribute to the cooling of the pool water.
Ice and Cooling Devices:
Use Ice Bags or Floating Ice: Place ice bags or large chunks of ice in the pool to provide instant cooling. The ice will gradually melt, dispersing cooler water throughout the pool and reducing its overall temperature.
Consider Pool Cooling Devices: Explore pool cooling devices specifically designed to lower water temperatures. These devices, such as solar-powered floating fans or cooling mats, actively cool the water by utilizing innovative cooling mechanisms.
Optimize Landscaping:
Plant Trees and Shrubs: Strategically plant trees and shrubs around your pool area to create natural shade and reduce the impact of direct sunlight. Leafy foliage provides additional cooling and contributes to a pleasant pool environment.
Use Light-Colored Pool Surfaces: Opt for light-colored pool surfaces, such as light-colored tiles or pool liners. Light colors reflect more sunlight and absorb less heat, helping to keep the pool water cooler, thus helping to cool your pool all summer long.
With these strategies, you can effectively cool your pool and create a refreshing oasis during the hot summer months. Utilize pool covers, shade structures, and windbreaks to minimize heat absorption. Take advantage of cooler nighttime temperatures and consider installing pool chillers for active cooling. Enhance water circulation and aeration, and explore ice and cooling devices to provide immediate relief. Finally, optimize landscaping around your pool area to create shade and reduce heat absorption. By implementing these techniques, you can enjoy a comfortably cool pool throughout the summer season, making it an inviting and refreshing retreat for family and friends.
More From Our Blog: